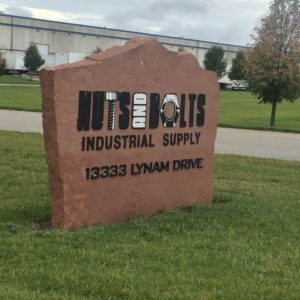 Nuts and Bolts, Inc.
13333 Lynam Drive
Omaha, NE 68138
402.339.9890
Nuts and Bolts Inc. has been providing thousands of fasteners and job-related parts and supplies to customers since 1985. Owners Richard and Jeanne Morrison believe the people they employ are the company's greatest asset. The Voice recently conducted a Q&A with Nuts and Bolts Inc. Vice President Joshua Morrison about the company's work relationship with Vodec. Joshua, the son of Richard and Jeanne, joined Nuts and Bolts Inc. in 1994. He is in charge of company sales.
The Voice: How did you first learn about Vodec?
JM: We were delivering some products to Vodec for another one of its business partners, and that started us thinking.
The Voice: How long have you been working with Vodec, and what type of work do our consumers do for you?
JM: Vodec has worked on a number of projects for us since the spring of 2018, including placing nuts on rods and hex nut plastic cap removal. It's repetitive work that allows our factory employees to focus on other tasks, and it's a win-win situation.
The Voice: What's surprised you the most about working with Vodec?
JM: The level of service is very good. Vodec staff picks up the supplies from our warehouse and delivers the finished product back to us when the work is complete. Then we start the process all over again – the communication has been very good.
 The Voice: Would you recommend Vodec as an employment source to other companies? If so, why?
JM: Yes. When we get new special projects in, we ask ourselves if it's something Vodec could do for us. You've got a great niche business that would benefit other companies as well as the people in your work program.
Consumers at our Vodec work centers perform basic tasks for our business partners under the supervision of Vodec staff. This process allows them to learn and improve their basic assembly, packaging, sorting and counting skills. Our consumers are paid fair and legal wages for their work that can prepare them for community jobs. For more information about a potential business partnership with Vodec, contact Chad Thomas at cthomas@vodec.org or 712.328.2638.