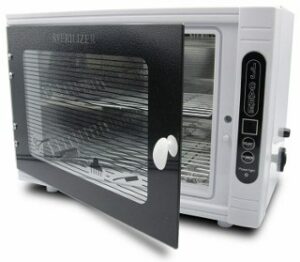 It looks like a microwave oven. But instead of heating up your coffee or last night's leftovers, it sanitizes whatever you place on its shelves.
Vodec's Urbandale Development Center is now home to a pair of sanitizer boxes that use ultraviolet light to sanitize items, anything from cell phones to credit cards. The acquisition is the latest effort by Vodec staff to create a safe, physical environment for consumers who attend day services.
"We take the health and safety of our consumers seriously, and we're constantly researching new ways to help prevent the spread of COVID-19 and the flu, now that we're entering the colder months," said Sheila Stoneburner, Vodec's services operations director for the Urbandale Development Center.
Sanitizer box technology is nothing new. Barber shops, tattoo parlors and hair/nail salons have been using them for years to sanitize the equipment they use to perform their services.
Vodec is adopting this practice to sanitize craft supplies, wooden puzzles and sensory items like manipulating blocks and fidget toys that a consumer attending day services may use.
During the last hour of services each day, Vodec staff begins collecting and sanitizing items from that day's programming so they are ready for use the next day. The process takes about eight to 10 minutes. When the timer goes off, gloved staff place the sanitized items in bags that are stored until the items are needed.
"It's just become a daily part of our routine cleaning processes here," Stoneburner said.
In addition to the sanitizer boxes, Stoneburner has instituted a number of new sanitation practices in recent weeks:
ServiceMaster does a microbial spraying of the center every 60 days with a product that's been proven to kill the COVID-19 virus. In between sprayings, the company stops by the center to do swab testing of various surfaces to see how the product is performing.
The Urbandale Development Center has begun using Goldshield 24, a hand sanitizer that's not alcohol based. It creates a barrier of protection that lasts all day – even after washing your hands with soap and water.
New triangle tables designed to seat individual consumers have been purchased that allow the center to provide services in its existing space while still adhering to six-foot social distancing guidelines.
"Vodec has always worked hard to bend, never break, when faced with challenges," said Vodec CEO Steve Hodapp. "I'm proud of our staff who come up with ways to successfully meet them."