While the holidays bring joy to many, they can be a source of sadness for others.
For Mischa Martens of Oakland, Iowa, the Christmas season often left her feeling depressed and wishing she could do more to help those in need. In 2003, she participated in Pottawattamie County's "Shop with the Sheriff" program through her church. That's when she started wondering what other resources were available. "I basically told them I wanted to know every kid would be getting something for Christmas," she recalled. "They turned the question back to me and asked, 'Why don't you do something?'"
That got Mischa thinking.
"The truth was I thought you had to have some prior experience, training or be super smart," she said. "What I found out later was that with God's help and a passion to make a difference, you don't need all that other stuff."
Each year since 2003, Mischa has put together Shoebox Angels gifts for kids, mothers and others in need in the local area. With donations and purchases made throughout the year, the "treasure" angel boxes are filled with a variety of items that provide health, warmth, snacks and fun.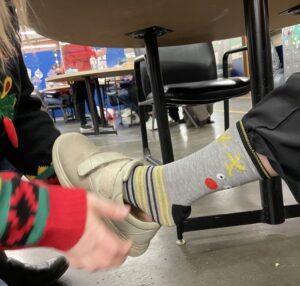 On Dec. 23, consumers in Vodec's Cares and employment development programs at the Council Bluffs Development Center were the beneficiaries of Shoebox Angels gifts.
Vodec Day Services Supervisor Daniella Finnegan is Mischa's daughter-in-law and helped Vodec's Council Bluffs Development Center make the connection with Shoebox Angels. One Cares recipient was so thrilled with her box that she asked for help changing into her new holiday socks that morning.
In total, Shoebox Angels handed out 156 boxes of holiday health, warmth, snacks and fun in 2020. "Each box also contained a message of hope and care for the recipient – it helps them know someone out there is thinking about them," Mischa said.
If you'd like to donate to Shoebox Angels or help collect items for Mischa's 2021 holiday effort, contact her at 402.650.0326 or shoeboxangels@gmail.com.