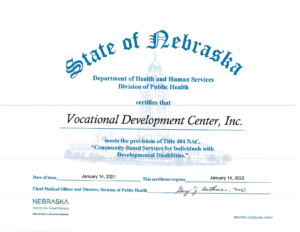 OMAHA – Vodec's Omaha Development Center at 7110 F Street has received a two-year certification from the Nebraska Department of Health and Human Services to provide services to individuals with developmental disabilities.
"We are so proud of our team under Nebraska Service Operations Director Micky Jackson's leadership," said Vodec CEO Steve Hodapp. "Micky and her team really did a lot of work in preparation for this review over the prior couple of years, and it paid off."
For more information about available Vodec services in Nebraska, contact Jackson at mjackson@vodec.org.