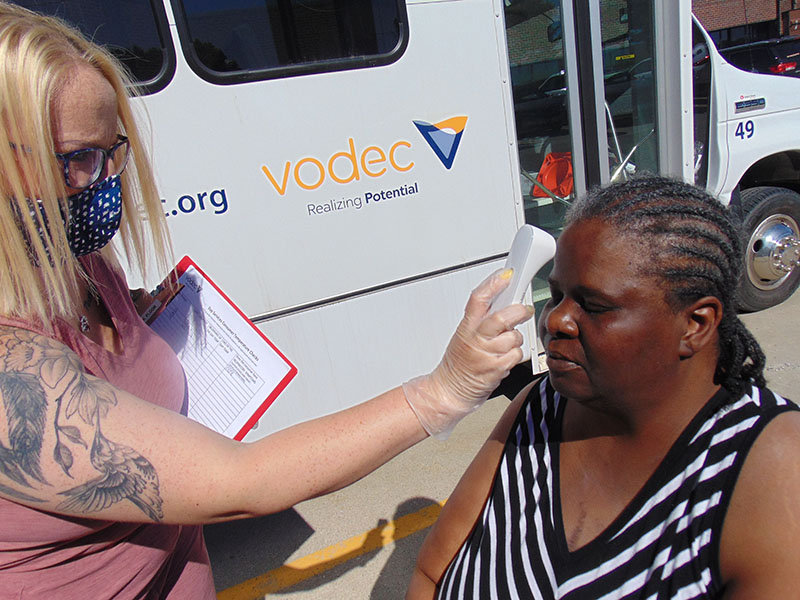 If it's been a while since you've been to a Vodec location, here's what you need to know:
For Consumers
You will have your temperature taken and recorded each day. Staff will monitor for respiratory symptoms throughout the day.
You can wear your mask while you are at Vodec. Please bring your own if you have one available. If you don't have one available, you can ask for one, and it will be provided.
You must wash your hands when you arrive, after breaks, at lunch and before you leave for the day in the bathroom sink in your area.
You need to be six feet apart from other consumers and staff at all times.
The vending machine areas are being monitored by staff to ensure everyone is social distancing.
There is a limit on the number of people who can be in the restroom at one time. Please check the sign on your restroom door before you enter.
You will take your break time and lunch time in a small group.
We have not resumed any community activities at this time.
For Visitors
You must check in at the front desk.
You will have your temperature taken and symptoms (if you have any) recorded when you check in at any Vodec location. If your temperature is above 100.4 degrees or if you are experiencing any respiratory symptoms, you will be asked to leave.
You are required to wear a face mask, preferably your own. If you don't have one, we will provide you with one (while supplies last).
Pictured above: a gloved and masked Carolyn Johnson, day services assistant, does a temperature and symptom check with consumer Felicia N. outside our development center in Urbandale. Below: Sneeze guards have been installed at the front desk of each Vodec facility. Pictured is Amy Fickes, supported employment assistant, at our Council Bluffs development Center.