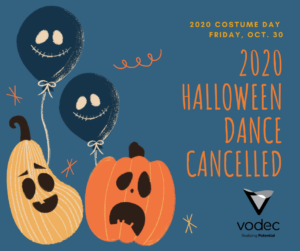 Vodec's 2020 Halloween Dance for consumers in the Omaha/Council Bluffs metro has been cancelled due to continuing concerns about the coronavirus.
"The health of our consumers and their families, our staff and our community partners is at the top of our priority list, so we're cancelling this year's dance as there's just no way to maintain social distancing at an event like this," said Vodec CEO Steve Hodapp.
On a related note, Vodec will not host its Central Iowa Annual Christmas Dance that typically takes place in December. A decision about Vodec's 2021 Valentine's Dance will be made in November.
All Vodec facilities are encouraging consumers to wear their Halloween costumes to their day programs Friday, Oct. 30. Look for additional Halloween-themed events during October on the activity calendars for each development center.