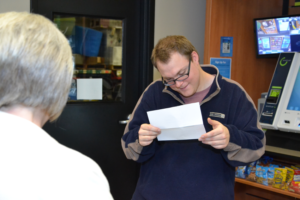 OMAHA | Supported Community Employment — "I have a letter for you." It's Friday afternoon, and Nebraska Supported Employment Specialist Sue Stary tries hard to keep her smile hidden behind a poker face.
"You'll have to open it and see what it says!"
This is one of those days Sue will tell you she "loves this job!"
She is delivering acceptance letters to the Vodec clients who will be in the next Project Search intern classes at Nebraska Medicine and Embassy Suites.
One by one, the new students open their letters, and get the news they've been waiting to hear for weeks. Their path to community employment just got a jump-start.

Vodec's Project Search partnership is a nine-month internship program hosted by operational businesses to give potential employees the chance to develop specific marketable skills that will help them land paying jobs.
Traditionally, the program is run for high school Special Education students; but our partners have helped us modify our locations to be an effective tool for helping adults with disabilities transition from sheltered workshops into the mainstream work force.
For most of the group of seven receiving letters today; the outcome is a surprise. Only one rips into his envelope with a confident "I'm sure I got in."  He was right. He starts with the rest of the class at Nebraska Medicine this August.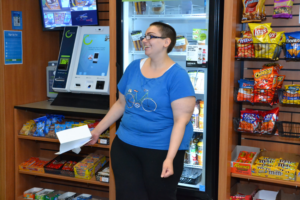 In 2016, Vizient, Inc. named Nebraska Medicine one of the ten best academic health systems in the United States. It's a reputation the facility is proud to have earned, and one sign of the excellence the environment demands.
Rotations at the medical center include time learning how to perform janitorial work to hospital standards, kitchen and catering operations, housekeeping in the medical wards and cleaning and disposal procedures for several of the clinics. It's the kind of course participants say is super challenging, but also incredibly rewarding for those who take it on.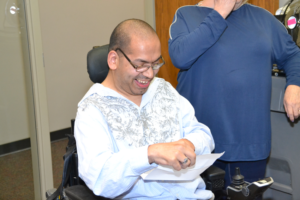 The hotel's emphasis is customer service with a smile. Vodec consumers who enter the downtown class do so in another location where excellence is the norm. This is one of Omaha's premiere hospitality locations; walking distance from TD Ameritrade Park, CenturyLink Center, the Old Market and the Riverfront. Students in these sessions rotate through laundry, kitchen and catering, special projects, grounds and maintenance, and banquet hosting modules.
Congratulations to our Project Search 2018 interns:
Nebraska Medicine:
Gabe V.
Shane K.
Mike D.
Jose M.
Steven G.
Bryan A.
Embassy Suites by Hilton (Downtown Omaha)
Asia T.
Shawunna D.
Kayla A.
Chris T.
Luke N.
# # #