Aaron Houser | Finance Director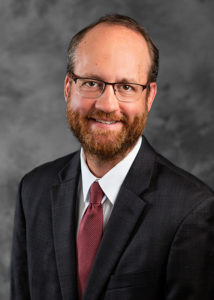 Aaron Houser began his duties as finance director at Vodec in 2020. A native of southwest Iowa, he is a graduate of Wayne State College with a degree in business finance and a minor in economics. Aaron also attended the Graduate School of Banking in Madison, Wis. He has more than 20 years of finance experience, most recently at Houghton State Bank, where he oversaw the company's finance and accounting operations. The bank is based in Red Oak, Iowa, and operates branches in Cumberland, Emerson and Griswold.
Aaron previously served Vodec as a member of the organization's board of directors. Outside the office, he is active in his community and the lives of his three children – Russell, Adam and Amanda. Aaron serves on the Griswold School Board, stays busy with his children's school and sports activities, and is a youth basketball coach during the winter months. In his free time, he enjoys music and is a drummer – a passion he shares with his children.