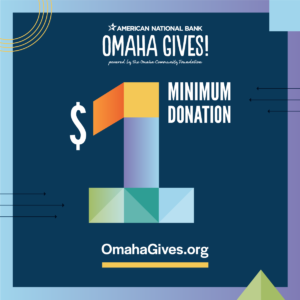 This year, it's all about connecting, caring and contributing. The Omaha Community Foundation (OCF) is using these three words to rally the Omaha/Council Bluffs metro around supporting local nonprofits through Omaha Gives! 2020, especially in light of the COVID-19 pandemic. Vodec – with development centers in Omaha, Council Bluffs and Urbandale – is one of hundreds of organizations participating in the annual online giving event.
"We're feeling the financial impact of consumer absences due to COVID-19 concerns, but our first and foremost responsibility is the health and well being of those we serve," said Vodec CEO Steve Hodapp.
Donations made during Omaha Gives! 2020 will be used to fund consumer activities throughout the year.
"Helping our consumers actively participate in community life is one of the most important things we do," Hodapp said. "While we're not yet sure what the post-COVID world will look like, we'll be making sure our consumers stay safe while engaging in the things that make their days meaningful."
If you're interested in supporting Vodec and other nonprofits this year, here's what you need to know:
The actual 24 hours of online giving runs from midnight to midnight May 20.
Vodec's profile can be found at www.omahagives.org/Vodec/overview.
You don't have to wait until May 20 to give. You can make your donation through May 19 as an early gift. It will be reflected on your credit card at the time of your donation.
You can create your own "Cheer Page" to raise money for Vodec. A Cheer Page is like a mini campaign. You set the amount you want to raise, then share your page with your online network of family, friends and colleagues. To create a Cheer Page, go to Vodec's Omaha Gives! Profile link (see second bullet above), click on the "Create a Cheer Page!" link and follow the directions. Make sure and tell people the funds you're raising for Vodec will support consumer activities in Omaha, Council Bluffs and Urbandale.
Follow our Facebook page at www.facebook.com/vodecinc/, then like and share our posts. If you use hashtags, use #omahagives2020, #realizingpotential and #visforvodec when you like and share our posts.
Create a #WhyIGiveOG story on Instagram or Facebook. Just type in who you're supporting and why, include the hashtag #WhyIGiveOG and tag us (@vodecinc) and OCF (@omahafoundation). A cash prize winner will be randomly selected from this group, and the winner will be able to select which nonprofit will receive the prize.
Thanks in advance for considering a donation to Vodec during Omaha Gives! 2020 and helping our consumers realize their potential.