ADULT TRANSITION PROGRAM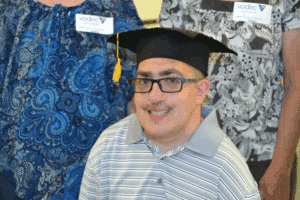 All students must eventually leave the routing and established relationships of the high school setting.
Transitioning from school to the community is an important step in the growth and development of every student.
Vodec's Adult Transition Program (ATP) is designed to meet the needs of students with mild or moderate intellectual disabilities between the ages of 18 and 21. ATP pinpoints the essential skills they will need to become fully included in community life.
We provide opportunities for adult learners to develop the skills necessary for daily living, community and leisure activities as well as job readiness including:
Preparing nutritious meals
Grocery shopping within a budget
Practical money management skills (including how to use a checkbook and debit card)
How to get and keep a job
WE LOVE ATP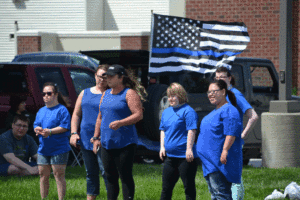 "This was my first year at ATP. This year has been great! You all have done an awesome job. You have taken your time to help us learn new things. I think if I had never heard of this program I wouldn't know anything people need to know to live on their own or how to spend their money."
–Sandy, ATP Participant
To find out more about ATP, contact Daryn Richardson by telephone (712) 328-2638 or e-mail drichardson@vodec.org

Parents and Guardians
If you have a high school student with a disability on track to graduate in a few years, it is not too early to start the process to access adult services for your child. Most typical graduates are looking at some sort of employment training or community employment service, and maybe a residential service. Whatever the needs of your child are, now is the time to make contacts to have things in place. If you need to know the who, what and how, contact Daryn Richardson. He can get you started.
We offer several in-school services that may be of interest to you. For example, some of our parents first learned about our adult services from their sons or daughters who were fortunate to have been in a Job Club session with Daryn Richardson. If your school doesn't make this free opportunity available to you, have someone contact us today. Other parents learned about Vodec's services through their students' participation in our other in-school programs, currently available through Council Bluffs Community Schools.
One of the programs is SEAC, which teaches students about conducting a job search, preparing for interviews and getting hired. Our Adult Transition Program, or ATP, is another option, where students learn valuable life skills and experience a variety of community integration activities. ATP prepares high school students for the challenges of adult life. It is open to graduation-bound students eligible for transition services. Students are taught skills in self-advocacy, financial literacy, healthy cooking, safety and more. If you believe your high school could benefit from a SEAC or ATP program, please contact us.